The industry recognizes that fees can be very plan-centric in nature.
National averages may not capture the nuances of plans that drive cost (both in a positive and negative manner). Thus, a more tailored approach (such as what is provided in a live-bid environment, like usage of the RPAG Provider Analysis) may not only be best practice but can be more determinative of what a plan's actual value on the open market is at any one point in time. The comprehensive nature of the analysis can be more determinative of fee reasonableness as it is based on what other providers may actually charge to provide the same services for the specific plan. It is a direct apples-to-apples comparison.
Provider Analysis Unique Differentiators
Benchmarking the fees, services and investments of service providers is a systematic process that takes an average of four to eight weeks. Beginning with the gathering of your plan demographics. The identification and selection of potential bidding providers is based upon matching your goals and objectives with their capabilities. Providers then complete detailed questionnaires that allow us to compare more than 400 data points in one succinct report. Provider finalists are selected and after their presentations, evaluated again based upon the potential fit with your organization and relative strength and balance of their services, investments, and competitive fee structure.
This RPAG Provider Analysis represents the three cornerstones of 401(k) plan benchmarking: fees, services, and investment opportunities. We have identified provider solutions that deliver a balance of high-quality services and investments at an exceptionally competitive cost.
Our objective is to allow you, the plan fiduciaries, to make educated and informed choices of recordkeeping and investment providers for your plan.
Remember, the key to a comprehensive analysis and provider comparison is balancing the discussion of fees, services and investments. There are dozens of factors that impact plan pricing, including number of eligible employees and plan participants, average account balance, plan design features, investment philosophy, and specific plan (provider) services. Therefore, the only accurate benchmarking method for plan fiduciaries is an interactive, direct "provider to provider" benchmarking process such as the one we have undertaken with the RPAG Provider Analysis.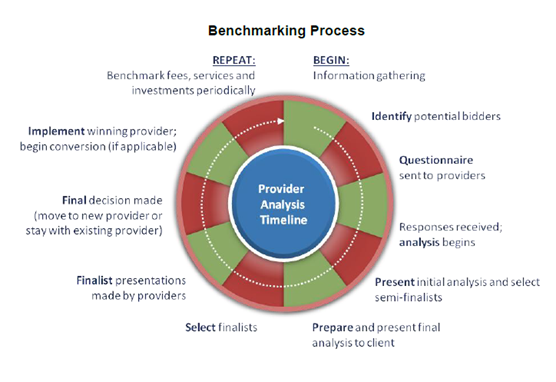 Integrated benchmarking and RFP reports that enable your clients to evaluate their plans, fees, services, and investments.
Most widely used RFP/benchmarking system in the U.S.
Live bid process to let the market determine reasonable fees
Bundled and unbundled recordkeeping and TPA platforms
More than 100 provider platforms
Analyze provider capabilities via a pre-populated 400 data point questionnaire
Prospect through project-only work
Sign up for our Newsletter